Reinventing A Currency Museum
Client

Theme

Project Type

Case Types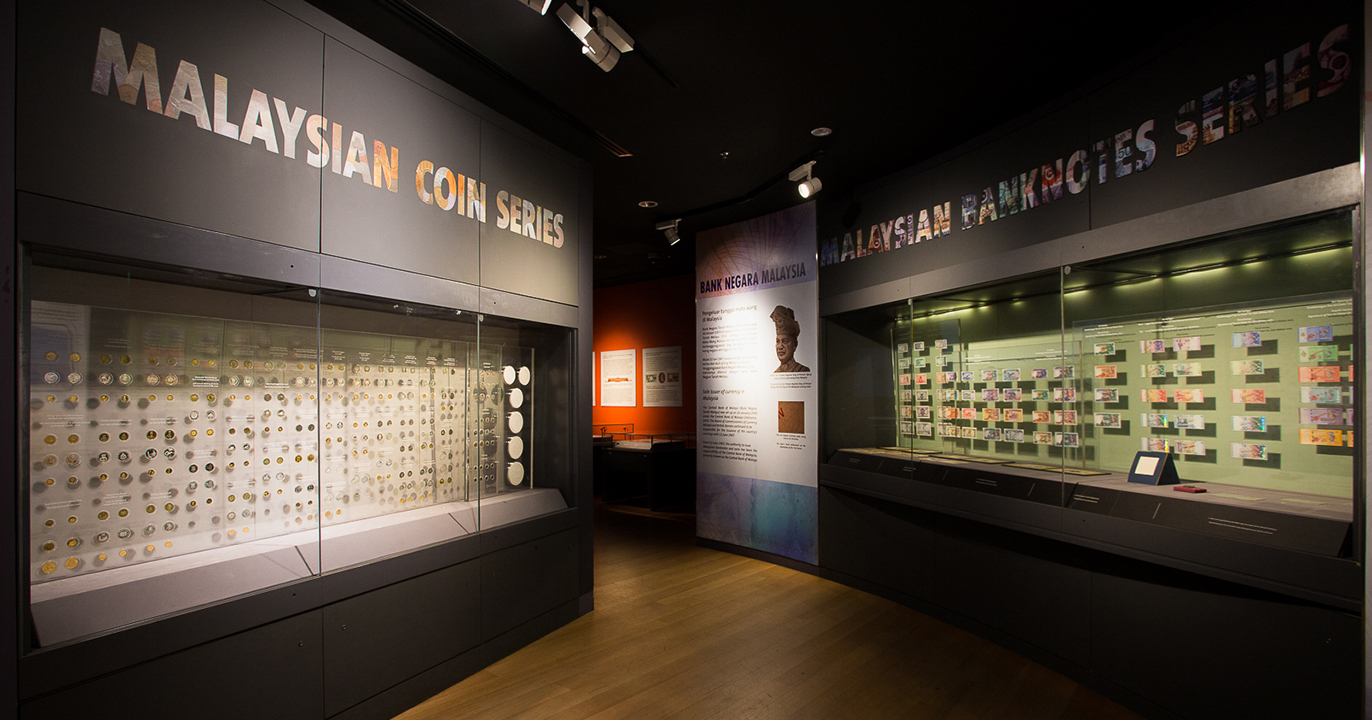 Reinventing A Currency Museum
Historical money and the artistry of currency design in visual bite sizes.
Nestled within the largely forested enclave of central Kuala Lumpur is an iconic building sporting a distinctive diamond-shaped, titanium-clad shell. This is a purpose-built museum for Malaysia's central bank.

When we began work on the Bank Negara Malaysia Museum and Art Gallery in the early 2005, from the start it was obvious that the interior fit-out team had their work cut out for them. Neither did the team from Trika, their appointed showcase supplier, imagine that it will be another six years before we get to witness the official opening of this museum which houses the most comprehensive collection and display of the Central Bank's numismatic currency history.

A total of close to seventy showcases of different sizes, formats and applications were distributed across five galleries.
A collaboration of industry heavy-weights to address stringent conservation needs.
When we were first briefed on the specifications for the showcases, we knew that the exacting standards had to be met within the context of the highly valued display of such historically significant artifacts which consisted of rare coinage as well as fragile paper currencies.
Led by the intrepid UK-based architect, Sian Hooper, the late chairman of the Clicknetherfield UK, John French, and Trika's Steil Tan, the trio understood that it was critically vital that the cases must meet such high conservation standards as the purpose-built museum was set in the high-humidity forested enclave at the edge of the bustling centre of Kuala Lumpur.
Although fully air-conditioned during their opening hours, the vast collection of coins, some minted during the 1800s, and original currency notes juxtaposed with flat documents drawn from the Central Bank's rich archives, the team were mindful that temperatures could easily hit the thirties and humidity levels of nineties.
An entire gallery, aptly called the River of Coins, anti-reflective glass from Schott's Amiran delivered the grand array of 24 look-down document cases to achieve a seamless display. The museum's chief curator, Puan Rohaya Juli led a team of six curators to painstakingly frame and document the history of every coin that went into the Numismatic Galleries. Large Cyrus cases were used for the larger object displays and with the museum insisting on certified anti-bandit glass to meet their stringent security requirements, some doors weigh over 160kg.
Smaller window framed cases were mounted within walls to allow an uninterrupted line of exhibits that caters to viewing heights of school going children.
With diverse and heavy subjects covering economics of global finance in its story line, the museum employed graphics and interactive media extensively to communicate their information flow.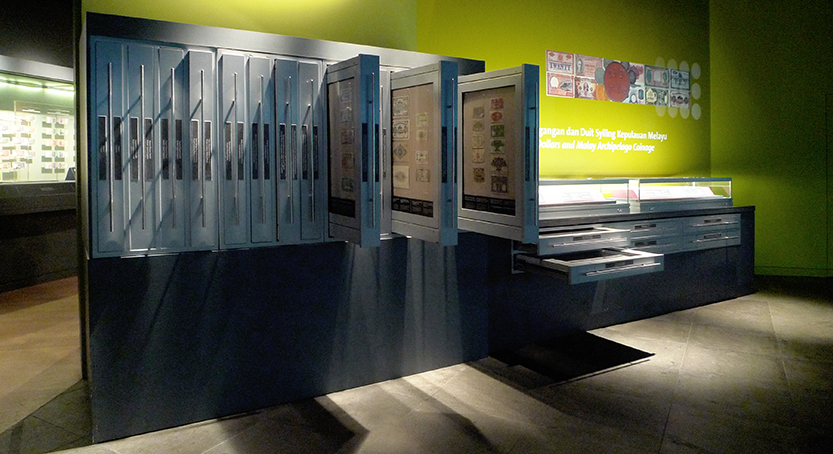 Fibre optics lighting was extensively deployed to preserve a fragile and historic collection.
Highly specified showcases, exhibits were easily displayed with many options for object mounts, graphic rails and special display stands.
Lighting was kept strictly to conservation standard fibre optic lighting systems with add-ons for micro-lighting for the table displays. Even large cases of above 2400mm internal display heights were using our fully integrated, focal adjustable 24mm lens within the case soffit. These use lighting projectors to illuminate a vast array of large sculptures and ancient vessels. We used a 12mm lens to deliver the internal display up lighting whilst special stalk-like end-fittings as well as fibre optic light wands offer both spot and uniform table lighting applications.
The collective result was a stunning display of light scape in museum display showcases of a quality rarely seen in this part of the world.
---
Discover other works
We have a comprehensive range of showcase solutions that cater to all your specific requirements.