Storage Display Showcase Solutions
Hydra
Hydra drawer units allow for high-density exhibit displays and secure storage; enabling visitor interaction within galleries.
Bank Indonesia Numismatic Museum
• Hydra/Vertica
Streamlined and Organized
An outer all-steel cabinet contains individual display drawers mounted on heavy-duty slides. Each drawer is fitted with a locking glass top and can be customised with handles, label holders and front finishes like timber. Units can also be used as a plinth for other types of showcases.
All key mechanical elements such as door frames, locks, hinges and seals are supplied as part of factory-built modules, which remain permanently assembled. All Hydra pull-out drawers come standard with anti-finger traps, soft-closing devices.
The National Gallery Of Singapore
• Hydra/Drawer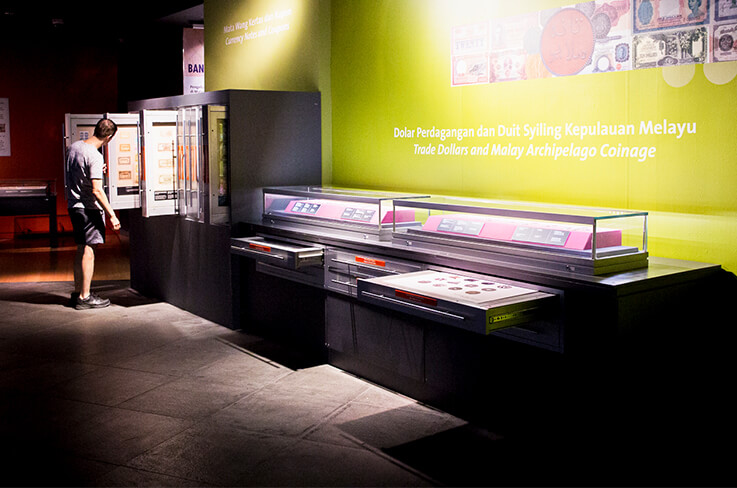 Extended Functionality
The versatility of this system can be extended to vertically or horizontally sliding document cases. Fully concealed high- specification sliding rails allow for a vertical sliding document case that is ideally suited for large undivided twosided glass-fronts with a concealed, high-security door.
This interpretation of the dynamic vertical sliding showcase allows textiles, banknotes and even coins of different thickness to be displayed together. Concealed fibre-optics light points are optional.
History of Money Bank Negara Numismatic Museum Kuala Lumpur, Malaysia • Hydra/Horizontal
General and Technical Specifications
Suitability - Type of exhibits
Hydra units are ideally suited for small, possibly high value, one-sided exhibits such as coins, medals, archaeology, entomology, geology, textiles, documents and other personal effects. They are particularly helpful with light sensitive exhibits which need to be protected from light, except when drawers are opened, thus reducing light exposure levels. We do not recommend fragile exhibits within Hydra drawer units due to the unpredictable nature of use by visitors.
Lighting
Lighting of exhibits can be externally lit by fibre optic or LED light bars mounted within drawers and linked to microswitches so that exhibits are only lit when drawers are opened.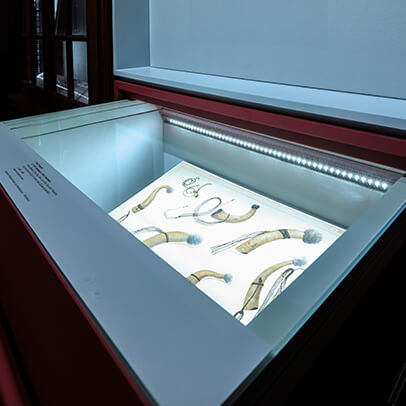 Soft Opening & Closing System
All drawers come with this feature to prevent finger traps and accidental slamming of the drawers.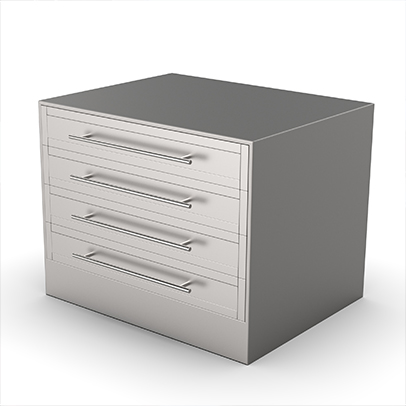 ---
OUR WORKS
We have a comprehensive range of showcase solutions that cater to all your specific requirements.