When does a hobby become a treasured collection?
Private collectors usually start with a whimsical interest but sometimes a lifelong passion eventually takes hold. Some collectors even evolve to become an authority on their chosen subjects.
In our line of work, we have met many who stayed true to their life-long interest and demand simply the best for their collections.
As a specialist case maker with more than 30 years of experience, we find that not a single one collection is alike. It can be just a small display case for a local neighborhood school's library. Or it can be a high-specification conservation case for a master painting from Europe.
At Trika, we approach each and every single private collection with as much enthusiasm and fervor as the collectors themselves.
It does not matter if the collection is just for a single small item. Or a warehouse full.
Simply call us for a fuss-free professional overview or ask for a free copy of our useful design guide, "7 Things You Need To Know About Museum Showcases".

Private Collector Projects
Client :
Mr Jeremy Lee
Project Type :
Private Collector
Case Types :
Ramses HD
Treasures In The Attic
(Ancient Chinese Coinages)
Tucked away in a quiet side street in the northern suburb of contemporary Singapore, an unusually large showcase displaying ancient Chinese gold and silver currencies sits conspicuously within the 4th level attic of a brand new bungalow.
The owner, a father of three school-going kids has been slowly increasing his precious collection of artifacts through acquisition forays at international auction houses. Among the rare pieces was a hand-printed imperial edict by Emperor Qianlong who ruled China from 1735 to 1796. This 17th century Qing dynasty scroll sits on a raised display plinth, highlighting the delicate gold printed embroidery and official stamp of the emperor.
The 2.4 meter long Ramses museum document showcase came in two parts; the 120 kilogram glass top vitrine and the accompanying folded steel clad pedestal base. Metal parts were powder-coated in a specific black gloss finish, with only the key display area wrapped in a 100% cotton beige fabric. Security laminated glass ensures that the showcase conforms to international museum insurance standard; a glass vault suited with high-security ABLOY locking system that is mated to an additional set of hidden latching steel dead-bolts as a further security feature.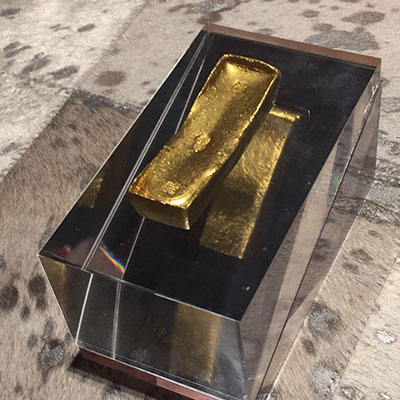 Client :
David Marshall Moot Court
Project Type :
SMU Law School
Case Types :
Turin Demountable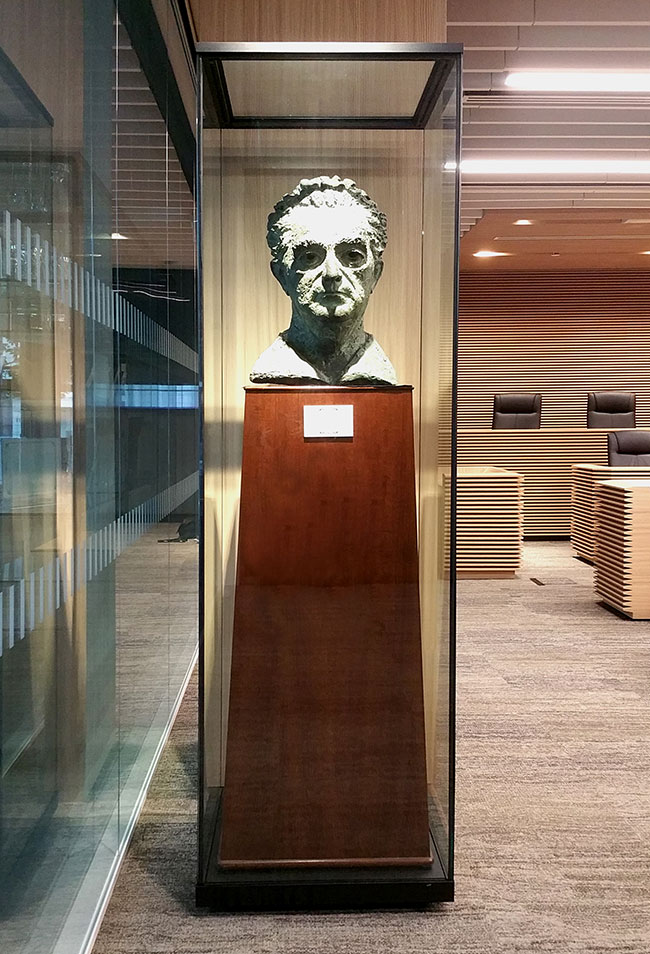 David Marshall Moot Court
SMU – Law School
Sitting squat within the open foyer of the new SMU law school building (David Marshall Moot Court) are two large multi-bay showcases. These high-specifications display cases were commissioned to house and display the school's notable achievements in the international moot court competitions. Straddling two entrances to the moot courts, the school specified for a demountable system that allows them to re-locate these showcases in the future. A bust of David Marshall, Singapore's first Chief Minister, sits within a separate stand-alone display case; this uses extra- clear, low-iron glass which has less iron content, allows for a clearer view without the green tinge that is present in normal float glass.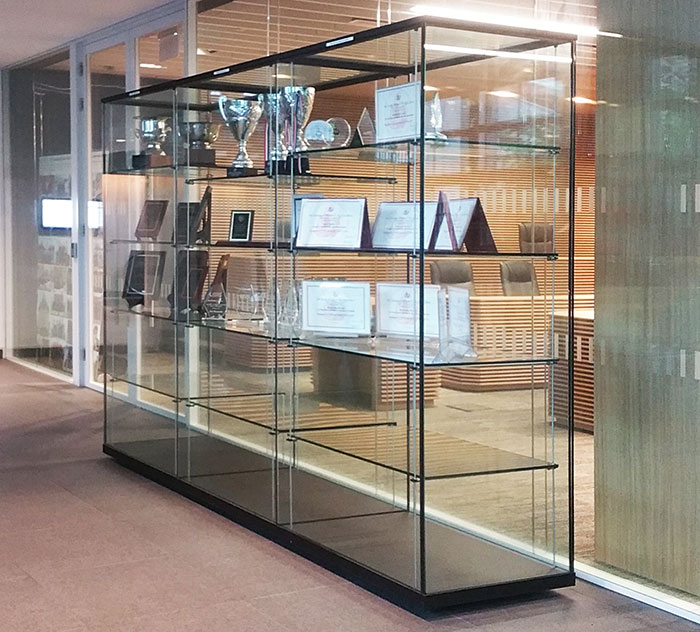 Client :
Noble Silver
Project Type :
Private Collector
Case Types :
Turin Demountable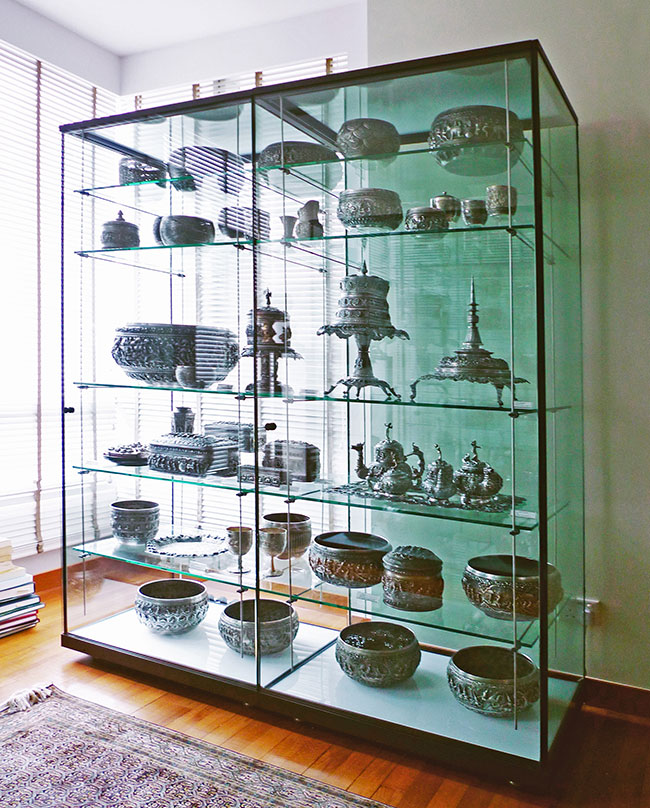 A Noble Journey
Sacred Buddhist Silver Bowls
The private collector and historian of ancient Myanmar silver Buddhist bowls had been toying with the idea of displaying his formidable collection in a museum showcase within the confines of a small room measuring only 4.5 meter square. After a somewhat circuitous internet search, the well-spoken Canadian stalwart managed to track down our company to produce for him two sets of display showcases that ended up occupying the entire wall space of two opposing sides of the room. These precious silver bowls, hand-chased by traditional craftsmen from the Sagaing region of Myanmar, with some dating back to the late 18th century, were painstakingly collected and curated by the owner over many trips and through several years.
The owner's biggest concern was to address how we are able to install a series of 2.4 meter tall and large multi-bay showcases on the 20th floor of a high-rise condominium in the central downtown shopping district of Singapore. By using our latest demountable Turin showcase system, we could easily transport, deliver to the apartment, assemble within the premises and provide a hand over of these conservation-grade showcases all within a day.
Ultra slim sheets of LED light panels helps deliver a uniform (4000kv) warm-white light from the top and as well as from the base of the showcase.
Client :
(With-held)
Project Type :
Private Collector
Case Types :
– Miron Round Case
– Turin Demountable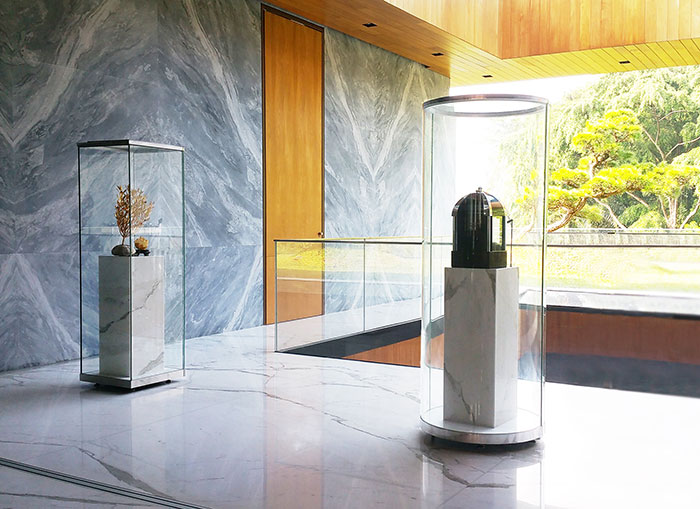 An Outdoor Challenge
A watch collector's dream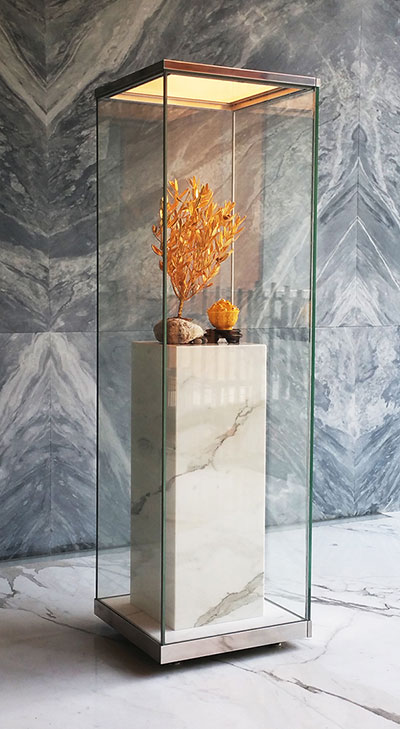 Nestled in a leafy district off Holland Road in Singapore sits an enviable large piece of land which sits two inordinately designed houses. One of them is a colonial double-storey with handsome balustrades harking back to the early 1930s with the other, a Modernist-style home which anchors as the main structure on this piece of good-class bungalow land. The commission came from the interior designer for three separate stand- alone all-glass vitrines, one of which is a round showcase made entirely of two equal halves of curved laminated glass of low-iron content.
The challenge was only realised later that the owner wanted to place his most precious watch collection in these showcases outside his patio facing the natural elements. This unlikely locale for these museum conservation showcases pose a veritable list of environmental issues such as insects which will be one of the biggest challenge. The other challenges include varying temperature fluctuations (affecting fragile items of display) as well as humidity levels that swings erratically in our tropical environment.
Location
Blk 4035, Ang Mo Kio Industrial Park 1,
#01-37, Singapore 569642.
(+65) 6876 1611